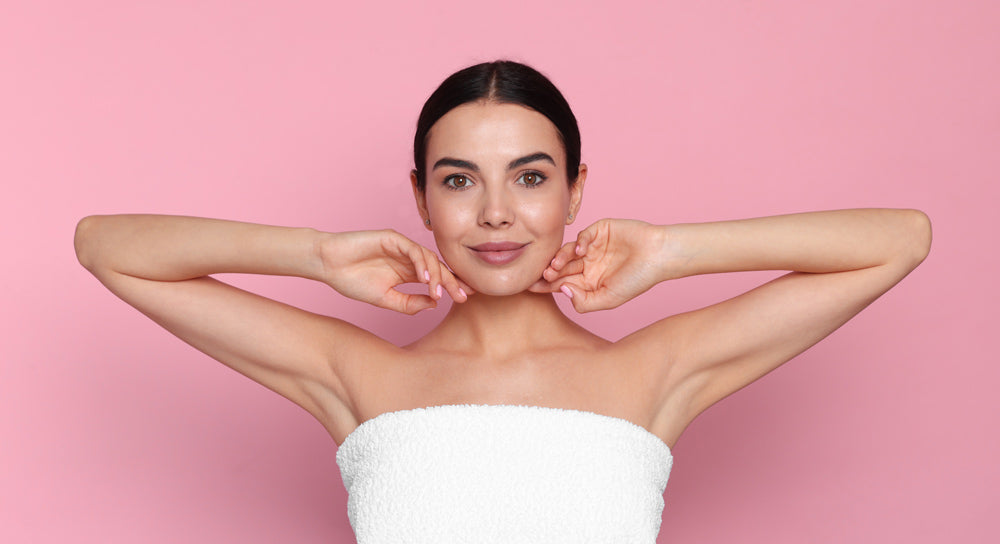 Two of the most common hair removal methods are shaving and waxing. The question is, is one method better than the other? Which one should you use? Both methods have pros and cons so ultimately it's up to what you prefer to have smooth skin. Let's take a closer look.
What is the difference between waxing and shaving?
Although waxing and shaving accomplish the same, giving you smooth skin sans hair, the methods are different. Waxing removes the hair from the roots. Shaving trims the hair, cutting it from the skin's surface, but the root stays intact.
Shaving
Shaving is quick and easy to do at home while you are in the shower. Just purchase a pack of razors and some shaving cream, and you are ready.
The prep and the process
Gently exfoliate your skin with a dry brush, gloves, exfoliating wash, or a mitt.
Shave in the shower toward the end of your shower so that your skin and hair are soft. Apply shaving cream to the area you want to shave. Use a sharp razor to shave the area. Follow up with a moisturizer or ingrown hair serum to reduce the chance of bumps and razor burns.
Shaving Pros
Quick and easy
Low cost
Not painful
Hair can be any length to shave
Shaving Pros
Have to shave frequently, even as often as every 1-3 days
Dull blades can cause nicks and irritation
Frequent shaving can make your skin more prone to irritation
Skin may not look and feel as smooth as after waxing
Side Effects
Shaving can cause itching, irritation, ingrown hairs, nicks, cuts, razor burns, and folliculitis.
Results
Smooth skin for a few days. Then, rinse and repeat.
Cost
Shaving is a low-cost hair removal method. You can get a pack of disposable razors and a shaving cream for $10 - $15, and you get multiple uses out of them.
Shaving Aftercare
Keep your skin moisturized. You can use moisturizing, nourishing body oils, and for bikini area you can use ingrown hair serum, to prevent ingrown hairs.
Waxing
Waxing can be done on all body areas, from legs to eyebrows. Waxing takes more effort (and practice) than shaving if you DIY at home. Perhaps the fastest and easiest way to waxing is to book an appointment with a waxing salon and let the professionals transform your skin from hairy to smooth in no time.
The prep and the process
Grow your hair out to ¼ to ½ inches before waxing. Before waxing DIY or an appointment take a warm shower to soften the skin (optional).
Soft or hard warm wax is applied to the area you want to remove hair from. When using soft wax, a wax strip is applied on top of the wax, pressing the strip to the wax. Then, with a swift motion, you pull the strip off the skin. This is the painful part for most, and this is where getting a professional to do the waxing can pay for itself. Hard wax is pulled without the strips simply by grabbing the edge of the wax.
Waxing pros
Less irritation than with shaving
Waxing is exfoliating leaving skin silky smooth
Skin can feel smoother
Lasts 3-4 weeks
Waxing Cons
Can be painful
You need to grow your hair out to 1/4 - 1/2 inches before able to wax
Side Effects
Waxing can result in ingrown hairs, bumps, or rashes. Using retinoid or acne products right before waxing can lead to abrasions.
Results
Waxing results in silky smooth skin. Also, the great news is that the results last about 3-4 weeks.
Cost
At-home wax kits start around $10-15, and a kit usually lasts for more than one application. DIYing might feel challenging as you are learning how to use the kit. The cost of a professional wax at a salon depends on what area is getting waxed. Larger areas cost more and small areas like lip and chin can cost around $10. Although waxing at a salon costs more, you get a professional, licensed esthetician to perform the waxing, minimizing any pain and hassle you might experience with at-home waxing so going the professional route may be well worth it.
Waxing aftercare
Waxing after care is very similar to shaving aftercare. Keep your skin moisturized. You can use moisturizing, nourishing body oils, and to prevent ingrown hairs, you can use ingrown hair serum.
Which one is better, waxing or shaving?
Whether waxing or shaving is better for you depends on your preferences. If you prefer the quick and easy route, and don't mind doing it more frequently you may prefer shaving. If you like a smoother skin and longer period before repeats, waxing might be for you. One is not necessarily better than the other, it's simply matter of which one you prefer.