Aftercare for Eyebrow Lamination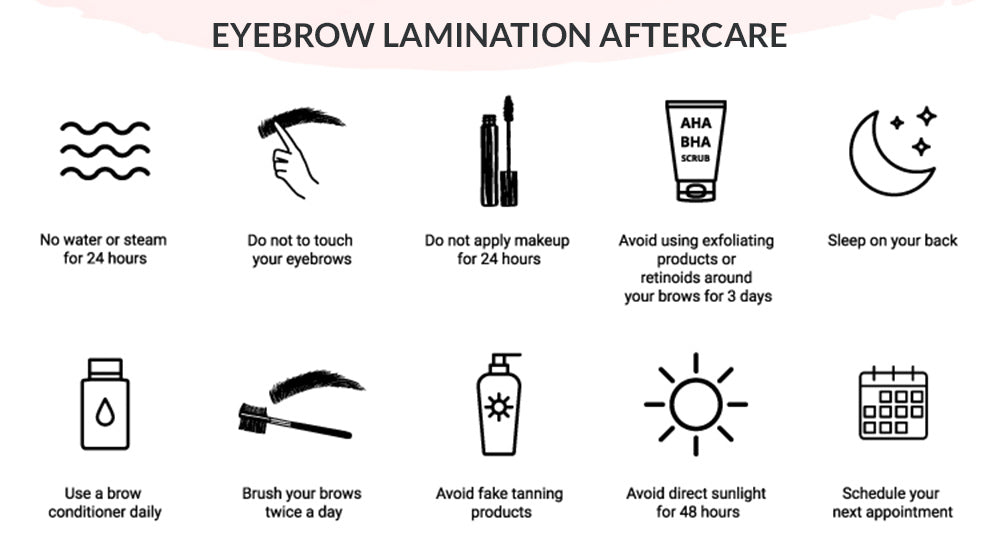 Aftercare for your eyebrows following brow lamination
Proper aftercare is important to implement to get the most out of your brow lamination and keep your eyebrows healthy. Although this treatment is non-invasive and safe, it is still a chemical reaction occurring on your brow hairs – so taking care of the area after ensures that your lamination will last longer and your eyebrows will stay as healthy as possible!
What should I put on my brows after lamination?
Implementing good aftercare is essential in keeping your brows hydrated and strong after a brow lamination treatment. Without proper care, your eyebrows may end up damaged and brittle.
Apply a hydrating brow oil or conditioner daily to moisturize and strengthen your brows after treatment. A good quality product will keep your brows nourished and aid in the longevity of your lamination.
Because brow lamination is a chemical treatment, your skin and brows will be more prone to sensitivity for the first 24 hours. To avoid irritation, do not use makeup or receive any other treatments on/around the area for the first 24 hours after brow lamination.
What oil should I use after brow lamination?
Hydrating oil treatment is the best way to condition your eyebrows after a brow lamination. Although stand-alone oils such as castor and sweet almond oil are beneficial in their own right; we recommend using a blend of various oils to get the combined benefits needed to maintain your brow lamination.
Strip's Brow Conditioning Oil is a nourishing blend of oils that hydrates the brow area without leaving the skin feeling excessively oily. It is an overnight treatment, which helps condition your brows while you sleep. The roll-on applicator makes aftercare convenient yet luxurious.
What happens if I get my brows wet after lamination?
If you get your brows wet following a brow lamination treatment, it can affect the chemical process happening on your eyebrows. Your brow lamination won't set, causing your brows to lose shape. Avoid getting your eyebrows wet for at least 24 hours after treatment, or the longevity of your brow lamination may be impacted.
Because water can interfere with the chemical process of lamination, you should avoid excessive steam as well. That means: saunas, baths, and steam rooms are also a no-go for the first 24 hours!
Ensuring longevity of the treatment and maintaining eyebrow health comes down to proper aftercare, here's a comprehensive list of do's and don'ts:
Avoid getting your brows wet within the first 24 hours (including excessive moisture and steam).
Avoid using makeup or receiving any treatments on or around the brow area within the first 24 hours.
Do not rub or touch your brows within the first 24 hours.
Do not sleep on your front within the first 24-48 hours.
Do not use harsh skincare products on the area within the first few days of treatment (exfoliants, anti-aging or tanning products).
Use a conditioning brow oil or serum every day.