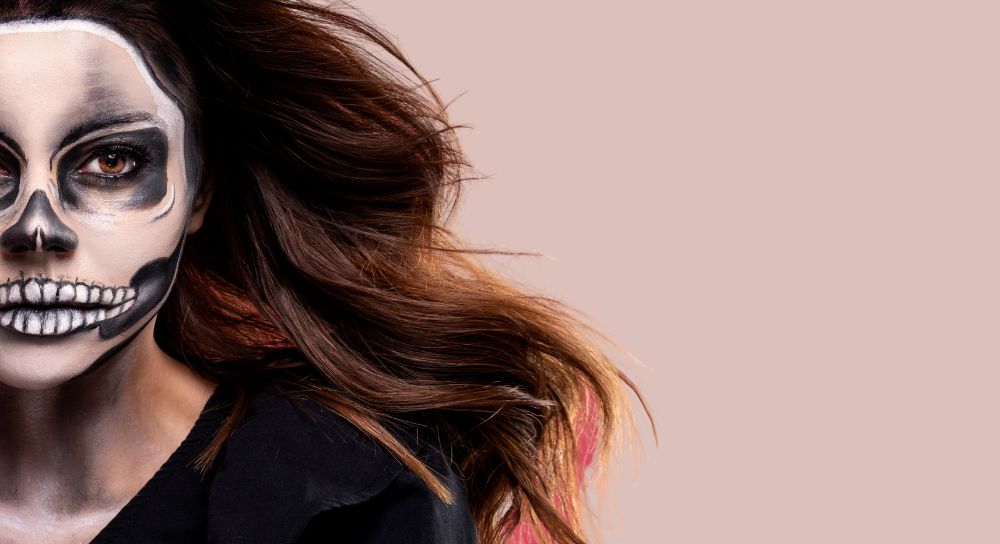 Halloween is just around the corner. It's a blast to come up with and show off your amazing makeup for your Halloween festivities. By following these skincare tips before and after party, you won't let heavy costume makeup ruin your skin.
Here are your esthetician approved skincare tips for Halloween
Before Applying Makeup
Wash Your Skin
Before you do anything - wash your face. Wash your face with a facial cleanser of your choice before applying any makeup products.
Exfoliate
Exfoliating your skin before you apply makeup will make it easier to apply the makeup. It will also help remove dead skin cells and allow your makeup to glide smoothly onto your face (and you'll look amazing).
Moisturize
Moisturizing your face helps protect your skin from dryness, irritation, and damage that can be caused by makeup products.
Protect your skin with a barrier cream
A barrier cream gives your skin an extra layer of protection before makeup application.
Check the product ingredients
Makeup products can contain chemicals that can be harmful to your skin. Make sure to read the ingredients on the labels to see if they're safe for use around your eyes, mouth, and other sensitive areas.
Do a swatch test
After you check out the ingredients, do a swatch test, especially if you are using a new product. A swatch test will allow you to find out how your skin reacts to the product. To do a swatch test, simply apply a little dab of the product onto your skin. If you have no reaction to the product you are good to go.
Use cosmetic-grade makeup
You'll see an assortment of makeup products marketed for Halloween. The best option for your Halloween makeup is to use cosmetic-grade products. Cosmetic grade makeup is high-grade makeup, much less likely to cause issues than makeup you grab at the Halloween shop. Cosmetic-grade, costume makeup is made to hold up well, even when worn for a long time.
Seal it in
Use a setting powder or finishing spray to set your makeup. This will help keep it from smudging off or running down your face as the night goes on.
Halloween Skincare Aftercare
When the festivities are over, before heading to bed, make sure do this last, important step for you skin. Aftercare is a huge part of the skincare routine.
Take off your makeup
Remove your makeup before before bed. Leaving makeup on your face overnight can cause breakouts and clogged pores.
Wash Your face
After removing your makeup, wash your face with a gentle cleanser. This will remove any residue left behind from makeup.
Exfoliate - again
Want to be extra, double sure, that all the makeup is off your face? Exfoliate. Yes, again. Exfoliation will help you get squeaky clean skin. Your face will thank you in the morning.
Moisturize - again
One last thing and this is important. Moisturize. Again. Apply a hydrating moisturizer or facial oil. Now you are ready for bed.
Happy haunting. You'll look amazing!